Today's Pub Day!
Hi, I have some big news.
All that Glisters is finally in print!
"O frabjous Pub Day! Callooh! Callay!"
So stoked for my debut mystery's release. Mega-thanks to all my fans, friends, and family for the support and encouragement over the years. You made a difference. Dreams really do come true!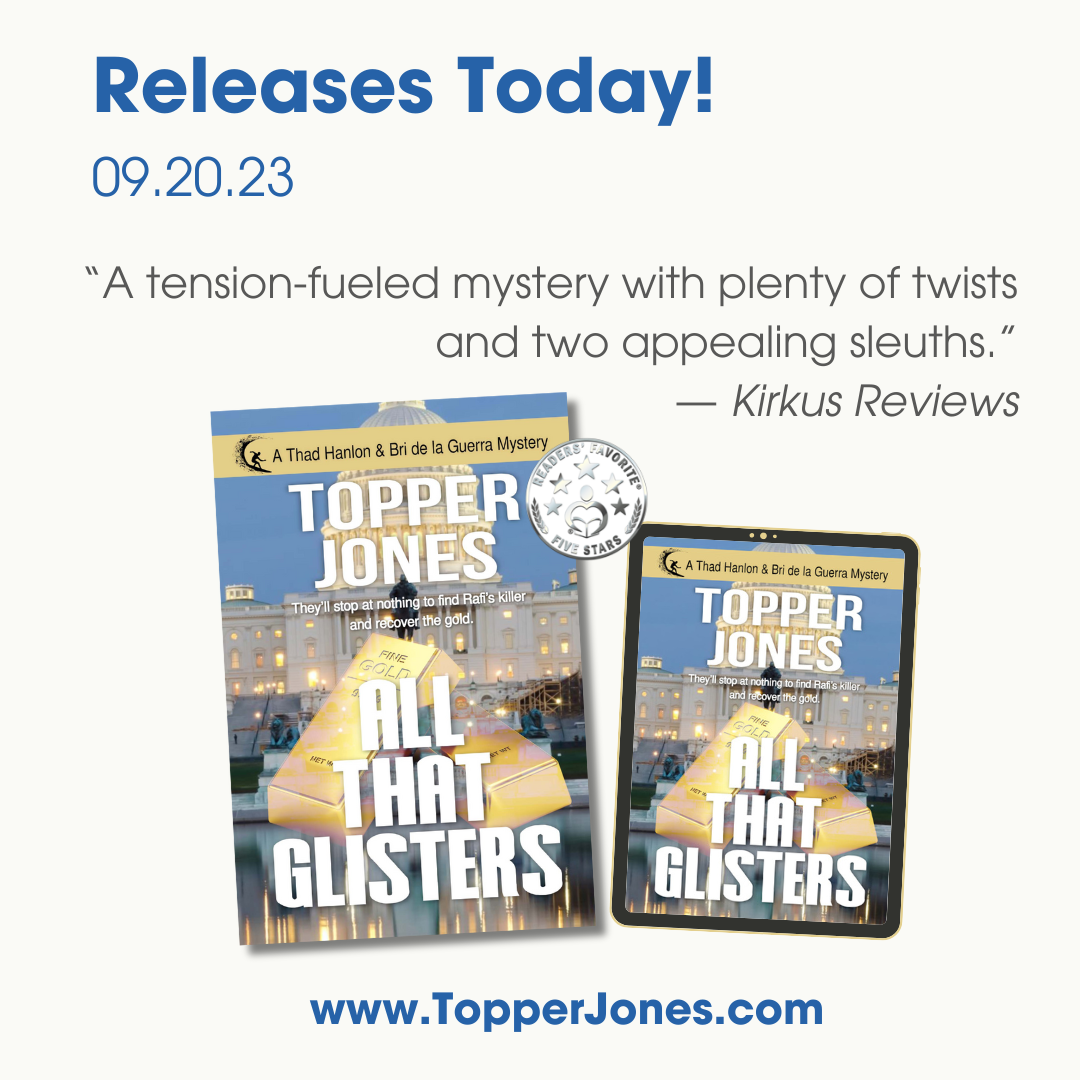 Blurb
When the facts don't add up in his surf buddy's bizarre death, forensic consultant (and daddy-to-be) Thaddeus Hanlon investigates, volunteering to go undercover to pick up where best friend Rafi Silva left off in a secret probe of the U.S. gold stockpile—every last bullion bar.
Rafi's spunky fiancée, Bri de la Guerra, has suspicions of her own and soon joins Thad on the hunt for answers. Together, the two amateur sleuths delve deep, stumbling onto a financial a-stock-alypse in the making, triggering a brutal manhunt along the Eastern seaboard meant to silence anyone looking to set the ledger straight.

Book Excerpt
Rafi, Bri, and I had been good friends throughout college. Marissa entered the picture a few years later but was no less committed to our bond as besties. There was nothing fake about our relationship. It was solid. Genuine.

"Okay, Bri," I said. "You made your point. You feel Rafi had too much to live for, that suicide is implausible."

"Impossible. And I can prove it, Thad." Bri sounded certain like she possessed facts in evidence, that we didn't have.

Marissa picked up on Bri's assuredness, following up with questions of her own. "So, Rafi was murdered? You can prove that?"

"Not directly." Bri leaned forward and got as close as she could to Marissa and me. "What I said was that I can prove Rafi did not kill himself."

"We're listening." Marissa pointed to herself and then at me.

I made the left-hand turn from the Pacific Coast Highway onto the California Incline, a slanted road that connects PCH with Ocean Avenue in Santa Monica.

Bri started fidgeting with her engagement ring again. "Remember the Dodge Whitney staffer who conference-called us Thursday night with the news?"

I nodded. Marissa nodded. In my mind, I replayed Jenny Yu's livestream of the crime scene. Her failed CPR attempt. And then my crazy request for her to rummage through Rafi's pockets to look for a suicide note or some kind of clue.

"That night Jenny said something that didn't quite make sense," Bri said.

All that Glisters Now Available. Here's Where.

At these fine online retailers in paperback and ebook: Amazon // Barnes & Noble // Rakuten-Kobo
And in paperback, at this independently owned local bookseller: The Book Bungalow in St. George, UT, USA

---

Join Me
Thanks for reading my blog. You can get more ideas for navigating today's fast-paced publishing world in my popular email newsletter. Each week, I share insights into the writing craft, tips for further exploration, and the latest news on Hanlon & de la Guerra mystery series. Click the link below now and join us.
---